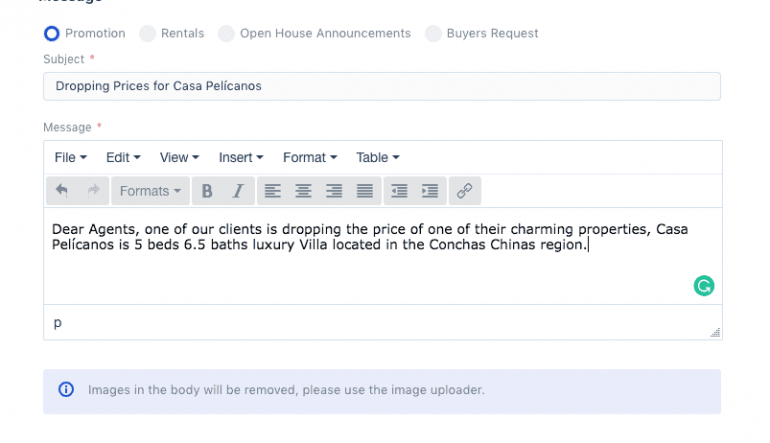 Sending Emails to other MLS Members
Sending emails to other members of MLSVallarta is quite easy.
Begin by clicking on the "Mailings" link on the left-side navigation.
When it opens you'll see previous mailings you have made, if you've done any. Here you can edit or discard them.
Create a New Mailing
To create a new message, click on "New Mailing."
First option is to include photos. Uploading an image is easy, but not mandatory. To add an image simply drag and drop, or browse for the file on your computer. Then click on "Upload Photos."
Select the type of mailing
The next step is to select what type of mailing you'd like to do.
If it is with regards to updates or changes to one of your listings, choose promotion. If it is with regards to rentals, select that. If you are holding an open house, select that option. If you have a buyer who you are having trouble finding what he is looking for, you can send out a buyer's request inquiry and ask other members if they may have something. Be sure you choose the right message type as other members do not want to be bombarded with non-appropriate emails, nor do you. For this email, we'll select Promotion.
Write the message
Give your email a title in the Subject field.
Then, fill in your message in the description box. Once done click on the "Send" button.
Send the message
You'll automatically be sent to the first page where you'll see your email is queued up ready to be sent out. Simply click on the send message at the end of it, and it will be sent. For this email, though, I am going to discard it by clicking on the garbage can icon.
And that's how you send emails to MLS members.